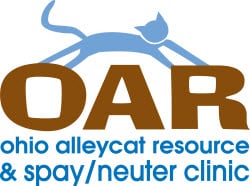 Ohio Alleycat Resource & Spay/Neuter Clinic is a non-profit 501(c)(3) organization. Our mission is to enrich the lives of cats and communities in Greater Cincinnati by providing low-cost, high-quality spay/neuter services for ferals, strays and pets; offering TNR (trap-neuter-return) and other outreach programs; and running a no-kill adoption center dedicated to finding loving homes.
Adoptable Animal Types & Adoption Fees
Ohio Alleycat Resource has the following adoptable animal types available and their adoption fees are as follows:
*For the My Furry Valentine Adoption Event, our cat and kitten adoption fee will be reduced to $25. All of their adoptable animals are spayed/neutered prior to adoption, current on all vaccines, microchipped and if age appropriate, all of their animals are rabies vaccinated.
Adoption Process
Adoption application is filled out, and screened by trained volunteers or staff. This typically includes a call to a landlord (if adopter rents). Adopter must agree cat will be indoor only; and that they will not declaw. Same-day adoptions are allowed. Adopters can pre-apply on our website to ensure that everything is set for when they want to adopt (even if they do not have a particular cat in mind).
My Furry Valentine Participation
Ohio Alleycat Resource will be participating in My Furry Valentine both days of the My Furry Valentine Main Event. They will bring some adoptable cats and kittens, and will conduct on-site adoptions. You can learn more about their adoptable animals by using the contact information below.
Learn More
Use the links and information below to learn more about Ohio Alleycat Resource and view their adoptable pets.
Address: 5619 Orlando Place, Cincinnati, OH 45227
 Phone Number: (513) 871-

0185