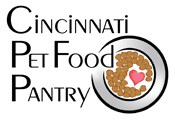 We are Cincinnati's only pet food pantry, a food pantry for low income pet owners to provide assistance so they can feed their pets and keep them in their homes and out of shelters and off the streets.
My Furry Valentine Participation
Cincinnati Pet Food Pantry will attend My Furry Valentine both Saturday and Sunday February 14th & 15th as an animal advocate group. You can learn more about them using the contact information below.
Learn More
Use the links and information below to learn more about Cincinnati Pet Food Pantry.
 Phone Number: (513) 275-5842
 Address: 5207 Madison Rd Suite B-1 Cincinnati, OH 45227