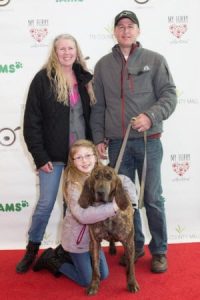 Can you believe My Furry Valentine 2016 is only one month away? We are so excited for another great event, and we look forward to record-breaking adoption numbers this year! As we get closer, it's time to start thinking about who your furry valentine may be, and how you can be sure to bring him home Valentine's Day weekend.
Each rescue group or shelter at the event will have their own adoption process to follow, and not all rescues and shelters perform same-day adoptions.  For some, you will be able to complete an application and be approved on-site. Others may require such steps as vet checks or home visits prior to My Furry Valentine. So how do you prepare?
Get started by looking through the list of participating rescues and shelters (https://www.myfurryvalentine.com/animal-groups). Clicking on a group will give you the group's adoption process and adoption fees.
Keep checking on the growing list of potential new family members (https://www.myfurryvalentine.com/featured-adoptable-pets). If you see someone who catches your eye, start the application process today!
Be patient. Remember that most rescues and many shelters are run completely by volunteers. They want their animals to find a forever home just as much as you do, and they will move as quickly as possible to make this happen. While it can be nerve-wracking to wait, just think how many applications they are processing in time for the event!
Be open. Yes, it's possible the dog you saw will be adopted before you can give him a home. But, it's also possible that a rescue or shelter will have a new dog you didn't notice before. Don't be discouraged if things don't go exactly as you planned; we bet you'll find someone you can't imagine living without!
(Pssst…still want the best shot at the one who caught your eye? Click here for information about Early Bird Access: https://www.myfurryvalentine.com/ticket-sales).
IMPORTANT NOTE: For the safety of all guests and animals, your personal pets will not be allowed at the event. If you would like to schedule an appointment to meet an adoptable animal, please contact the rescue or shelter from which you are looking to adopt.
We can't wait to see you on February 13th and 14th!