There are a lot of myths about pet adoptions out there: like adoptable pets are the throwaways, you can't find the breeds you want, rescues make it too challenging to qualify for adoption. Truth is though, there are all sorts of rescues and shelters, and all sorts of pets out there just waiting for you to find them. Let us introduce you to a few reasons, you are ACTUALLY a pet adopter; you just don't know it yet.
1. You like adorable, small things.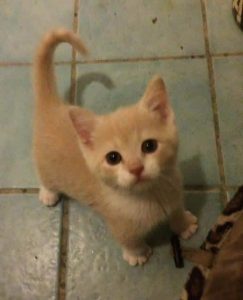 Meet Cabana Boy, a Domestic Short Hair baby boy. You can find him along with a whole lot of other kittens to get smitten over at Ohio Alleycat Resource.
2. You like adorable, BIG things.
Tori is hanging out (though hopefully not for long!) with all her other larger than life pals over at Harlequin Haven Great Dane Rescue in Bethel, Ohio.
3. You like new things.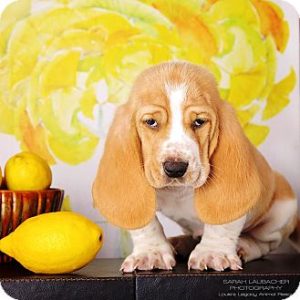 I mean stop it! Amiright? A little adoptable purebred basset hound is basically already in your backyard at Louie's Legacy ready to join your family. We can't make this stuff up.
4. You like old things.
You would be Lucky, to bring this old gal, Lucky, a Senior Domestic Short Hair Kitty at P.A.W.S. of Dearborn County Humane Center, home to your family.
5. You like things with spots.
Little Dixie is a true doll.., or "dal" as we like to say. Willing Hearts Dalmation Rescue has been busy finding homes for beauts just like her in PA, MD, DE, NJ, OH, NY, IN, MI and parts of Virginia. Maybe your home is next!
6. You like things named Spot.
Spot is an English Setter Mix chillaxing at a neighboring no-kill animal clinic in Indy  and here's the coolest part, he's got tons of friends too, just waiting to chillax their way into your heart.  
7. You LOVE nuts.

Almond, Cashew and Pecan are three beagle pups at Sweet Dream House Rescue in Norwood waiting to be invited over for some permanent post-dinner snuggling.
8. You need someone to binge watch GoT with for the 3rd time.
Chiquita don't judge. All she wants is a little bit of TLC and maybe a can of wet food once in a while. Then, she'll sit there with you 'til Arya Stark finally gets the revenge she deserves.
9. Sometimes you just want to cuddle.
Little known fact about pit bulls: epic snugglers. There's a reason the folks at ADORE-A-BULL Rescue chose their name. They make it their top priority to match the right pup with the perfect family as they work to change minds and reverse the negative stereotypes pit bulls often, unfairly, get saddled with.
10. You believe love always wins.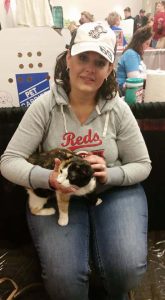 Gypsy found her forever home at last year's My Furry Valentine event along with 812 other furry friends.
Ok… we can't promise all these pets will be there if you go looking for them—in fact, we hope they aren't because that means they already found their home! But, we hope you have taken one thing away from this article: There is a perfect match for you at a rescue or adoption center nearby.
The first step in accepting your adopter instincts is to acknowledge them. Go ahead… it feels good! Even if you're not ready to add a furevermate to your family today, it costs nothing to fill out an application, start a conversation with folks from your local adoption rescues, or volunteer. Then, when the time is right you'll find your Gypsy, just like Stacy did.